Difference Between Zip Up Hoodie and Pullover Hoodie
The main difference between a zip-up hoodie and a pullover hoodie is the way they are designed to be worn and their style.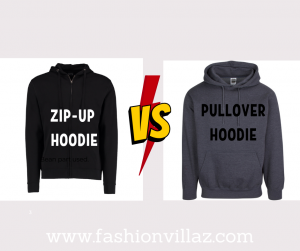 What is zip-up hoodie?
A zip-up hoodie, as the name suggests, has a zipper that runs down the front of the hoodie, allowing you to zip it up or down as desired. This makes it easier to put on and take off, and you can adjust the level of ventilation by partially zipping it. Zip-up hoodies also tend to have a more sporty or casual look.
What is pullover hoodie?
On the other hand, a pullover hoodie doesn't have a zipper, and you need to pull it over your head to wear it. Pullover hoodies usually have a more relaxed and comfortable fit, and they are often associated with a more laid-back, casual style.
In terms of warmth, both zip-up and pullover hoodies can provide similar levels of insulation, depending on the material and thickness of the fabric.
Is zip-up hoodie better than pullover hoodie?
Overall, the choice between a zip-up hoodie and a pullover hoodie depends on your personal preference and the occasion or style you're going for therefore saying that one is better than other would be incorrect. It all depends on your personal taste, style & occasion you are heading it
If you are looking for hoodies manufacturer in Pakistan, Fashion Villaz is a reliable supplier. We are knitwear manufacturer & woven garment manufacturer in Pakistan. Feel free to reach us out for quotation.
We accept small MOQ